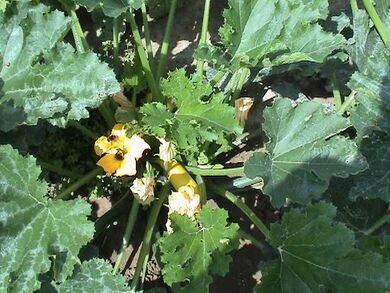 UK: August, September
This recipe is good for when you have a glut of courgettes. It uses the courgettes as the filler with a fairly simple sauce.
Ingredients
Edit
courgettes
tomatoes, ideally plum
mixed herbs, dried or fresh
sweet pepper
olive oil
garlic clove
Note on quantities: The sauce should be a balance between the tomatoes and pepper. Then the sauce and the courgettes should be satisfyingly balanced.
Equipment
Edit
griddle pan or grill
saucepan
peeler
masher
Preparation
Edit
top and tail the courgettes and cut into two lengthwise. With a peeler cut off a strip of skin on the other side, so that you can rub the garlic along the flesh of each side.
finely chop the tomatoes
cut a sweet pepper to reveal an edge, then with the peeler peel of strips of pepper till you have enough to balance the tomatoes. Chop the strips finely.
have herbs, picked and chopped if necessary, so that ready to add
oil the griddle lightly or brush the courgettes lightly with oil then grill till browned and beginning to soften on both sides
fry the tomatoes in olive oil in the saucepan, and when begin to soften mash slightly, then add the peppers, then the herbs, cook till can mash further to give a fairly thick sauce
Serve with fried mushrooms
add a small amount of onion or spring onion to the start of the sauce
Ad blocker interference detected!
Wikia is a free-to-use site that makes money from advertising. We have a modified experience for viewers using ad blockers

Wikia is not accessible if you've made further modifications. Remove the custom ad blocker rule(s) and the page will load as expected.