---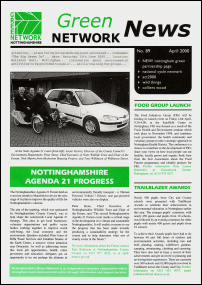 Nottinghamshire Green Network was a small voluntary organisation producing
Green Network News
(GNN) from November 1991 to December 2000, when it closed down due to funding difficulties. It's now part of the history of local action for change, and still remembered fondly by former readers.

GNN appeared monthly or bi-monthly, usually 6 pages per issue, presenting a concise, readable round-up of local projects and events relating to environment and sustainable development, with signposting to sources of further information and a calendar of events on the back page.

Green Network also compiled a database of local organisations working the environmental field and used this to help field information requests from the public. This was published in printed form as The Environmental Directory in 1996 and 1999.
Ad blocker interference detected!
Wikia is a free-to-use site that makes money from advertising. We have a modified experience for viewers using ad blockers

Wikia is not accessible if you've made further modifications. Remove the custom ad blocker rule(s) and the page will load as expected.