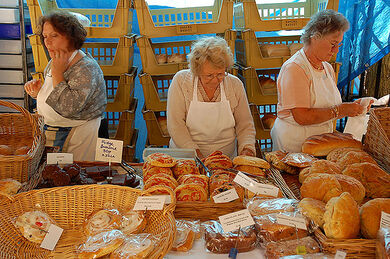 Gloucester is a city, district and county town of Gloucestershire in the South West England region. Gloucester lies close to the Welsh border, and on the River Severn, approximately 32 miles (51 km) north-east of Bristol, and 45 miles (72 km) south-southwest of Birmingham. In 2001 the city proper had a population of 123,205. However the built-up area extends beyond the city boundary. The 2001 census gave the population of the whole "Gloucester Urban Area" as 136,203.
It is located on the eastern bank of the River Severn, 114 miles (183 km) west north west of London. It is sheltered by the Cotswolds to the east, while the Forest of Dean and the Malvern Hills rise prominently to the west and north, respectively.
Topic links
Edit
The headings in this section provide links to some of the topics in the Ideas Bank. Click on the Ideas Bank link, or the category listing to see a full list of topics.
In July 2007, Gloucester was hit badly by a flood that struck Gloucestershire and its surrounding areas. Hundreds of homes were flooded, but the event was most memorable because of its wider impact - about 40,000 people were without power for 24 hours, and the entire city (plus surrounding areas) was without piped water for 10–14 days.
Public transport in the city is run by Stagecoach, operating from its depot on London Road. The city is also served by Gloucester railway station, with frequent services to some of the country's largest cities, London, Bristol, Cardiff, Nottingham and Birmingham.
Waterways in the United Kingdom
Gloucester is linked to the Severn Estuary by the Gloucester and Sharpness Canal, which is navigable by small coasters. The city is linked to the River Avon and Stourport-on-Severn by the navigable part of the River Severn, which is navigable by river craft of a few hundred tonnes' displacement. Gloucester Docks mark the Normal Tidal Limit (NTL) of the river
Gloucester was formerly linked to Ledbury and Hereford by the Herefordshire and Gloucestershire Canal. This canal is now being restored, and the restored canal basin in the Gloucester suburb of Over is already a local attraction.

External links
Ad blocker interference detected!
Wikia is a free-to-use site that makes money from advertising. We have a modified experience for viewers using ad blockers

Wikia is not accessible if you've made further modifications. Remove the custom ad blocker rule(s) and the page will load as expected.