Edited news and comment articles are being replaced on this wiki by
articles with rss feeds
. So this page or series of articles is no longer being maintained. If you wish to reactivate this page, please remove this notice and leave a note on the
Community Portal talk page
, thanks.

Comment Global
Leaked document reveals Rio + 20 sustainable development goals, 10 January [1]
Rio + 20 must empower the grassroots, 8 December [2]


Oil will decline shortly after 2015, says former oil expert of International Energy Agency, January 5 [3] topic


How the European Program to Reduce Carbon Pollution From Aviation Works, Jake Schmidt, 1/5/12 [4] place, topic


David Pencheon: Sustainability by stealth – 8 steps to heaven, 13 Dec [5] topic


Local CO2 Mapping Takes Off (With Your Help!), John Geraci, November 29 [6]
Please Stop Talking About Global Warming, John Geraci, November 17 [7] topic, topic
________
References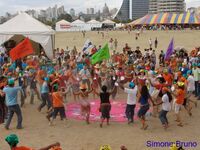 "Participation is ranked 3rd (out of 97) and is well supported across all organisational types. Given the prominence of this concept, turning it into meaningful initiatives and outcomes in the Rio process will be vital." Rio+20: Analysis of Zero Draft Submissions, January 2012 [1]



The Greening of Singapore, 14 January [2]

Jane Goodall Institute: Saving Trees and Chimpanzees While Improving Health, 1/11/12 [3] topic

Rio 2012 - Zero draft of the outcome document published, January 2012 [4]
World cities say: 'Hear us!', New York City's Mayor Michael Bloomberg champions a major role for cities at Rio 2012, Jan. 03 [5]
References
Ad blocker interference detected!
Wikia is a free-to-use site that makes money from advertising. We have a modified experience for viewers using ad blockers

Wikia is not accessible if you've made further modifications. Remove the custom ad blocker rule(s) and the page will load as expected.