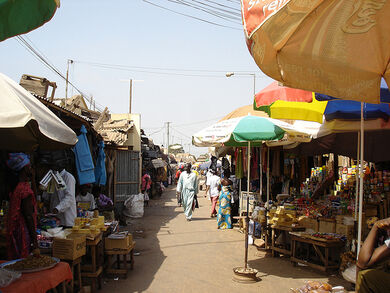 The Gambia (officially the Republic of The Gambia) commonly known as Gambia, is a country in Western Africa. The Gambia is the smallest country on mainland Africa, bordered to the north, east, and south by Senegal, and has a small coast on the Atlantic Ocean in the west. Its borders roughly correspond to the path of the Gambia River, the nation's namesake, which flows through the country's center and empties into the Atlantic Ocean. Banjul is Gambia's capital, but the largest conurbation is Serrekunda.
Topic links
Edit
The headings in this section provide links to some of the topics in the Ideas Bank. Click on the Ideas Bank link, or the category listing to see a full list of topics.
Samba Faal, the mayor of Banjul, capital of Gambia, observed that a one metre rise in sea level near his city would result in a fifty percent loss in landmass coverage. Since most of Banjul is one metre below sea level, such a scenario would pose a serious threat to human settlements, health and food security [1]
References
↑ United Nations Environment Programme, February 27 2009
Ad blocker interference detected!
Wikia is a free-to-use site that makes money from advertising. We have a modified experience for viewers using ad blockers

Wikia is not accessible if you've made further modifications. Remove the custom ad blocker rule(s) and the page will load as expected.