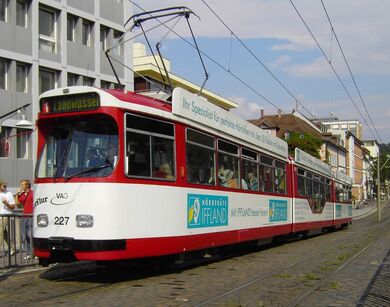 Freiburg is a city in Baden-Württemberg, Germany (where it is officially known by its full name, Freiburg im Breisgau), on the western edge of the southern Black Forest (German: Schwarzwald).
On the site of the former French army base, a new neighborhood for 5,000 people, Vauban, was begun in the late 1990s as a "sustainable model district". Solar power is used to power many of the households in this small community.
At the centre of the old city is the Münsterplatz, its largest square. A farmers' market takes place here every day except Sundays.
Government
Edit
Freiburg is known as an "eco-city". In recent years it has attracted solar industries and research; the Greens have a stronghold here (the strongest in any major German city; up to 25% of the votes city-wide, in some neighbourhoods reaching 40% or more in the 2002 national elections). The newly built neighbourhoods of Vauban and Rieselfeld were developed and built according to the idea of sustainability. The citizens of Freiburg are known in Germany for their love of cycling and recycling.[1]
The Oberbürgermeister, Dr. Dieter Salomon, (elected in 2002), is the only member of Bündnis 90/Die Grünen who holds such an office in a city with more than 100,000 inhabitants.
In June 1992, the Freiburg city council adopted a resolution that it would only permit construction of "low energy buildings" on municipal land, and all new buildings must comply with certain "low energy" specifications. Low energy housing uses solar power passively as well as actively. In addition to solar panels and collectors on the roof, providing electricity and hot water, many passive features use the sun's energy to regulate the temperature of the rooms.[1]
Freiburg is host of a number of international organisations, in particular ICLEI - Local Governments for Sustainability and ISES - International Solar Energy Society.
Transportation
Edit
Freiburg has an extensive pedestrian zone in the city centre where no automobiles are allowed. Freiburg also has an excellent public transit system, anchored by a continually expanding web of tram routes known as the Straßenbahn.
Freiburg is on the main Frankfurt am Main - Basel train line with frequent and fast long-distance train services to major German and other European cities. Other train lines run east into the Black Forest and west to Breisach.
Topic links
Edit
The headings in this section provide links to some of the topics in the Ideas Bank. Click on the Ideas Bank link, or the category listing to see a full list of topics.

Social media: Transition Town Freiburg

Wanted pages and external links
References