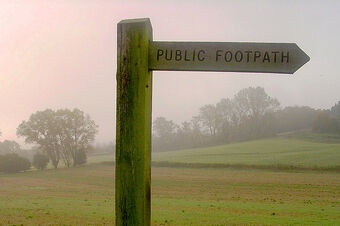 Farnham is a town in Surrey, England, within the Borough of Waverley. The town is situated some 42 miles (67 km) southwest of London in the extreme west of Surrey, adjacent to the border with Hampshire. By road Guildford is 11 miles (17 km) to the east, Aldershot 4 miles (7 km) to the north-east and Winchester 28 miles (45 km) to the south-west.
Current local issues
Edit
Development
Edit
A proposed major re-development of part of the town by Crest Nicholson has been causing considerable controversy for some years [1].
Traffic congestion, road safety and pollution are also major concerns. The A31 by-pass cuts off south Farnham from the town-centre and a light controlled crossing for vehicles and pedestrians at Hickley's Corner has been the scene of a number of fatalities. These traffic signals, together with additional signals a short distance away in each direction at the Weydon Lane junction and the Shepherd and Flock roundabout, cause significant traffic delays, especially at peak times. Resultant rat runs in the town centre frequently cause gridlock. An underpass at Hickley's Corner has been proposed but acceptance by the authorities was conditional upon an additional gyratory system on flood meadows nearby; the controversial proposal was dropped and has not been redrafted. Emissions from heavy traffic has caused The Borough (one of the main streets in the town centre) to be noted as one of the most heavily-polluted streets (in terms of air quality) in England [2].
Mineral extraction (gravel and sand) is a major industry in the Wey Valley. The constant search for new extraction sites causes much discussion and the infilling of the resultant quarries with domestic waste is also controversial.
Topic links
Edit
The headings in this section provide links to some of the topics in the Ideas Bank. Click on the Ideas Bank link, or the category listing to see a full list of topics.
A Farmers' market is held in the central car park on the fourth Sunday of every month, selling high-quality, locally-produced meat, fruit and vegetables, bread and cakes, preserves, beer and cider, fruit juices, cheeses and other dairy products.
Farnham is twinned with Andernach in Germany.
Farnham borders on the Surrey Hills Area of Outstanding Natural Beauty and the North Downs Way long-distance path starts here.
External links
Edit

Places, projects and networks -

Portal - UK - USA - Australia - New Zealand - Europe - North America - South America - Oceania - Asia - Africa / Campaigns - Building networks -

Village pump
SCA Wiki - Places, projects & networks - Ideas Bank - News - Diary - Resources - Community / Avoid adverts
This article is a stub. Someone helped by starting it, but it doesn't have much content yet. You are invited to add content.

Thank you!
References
↑

Farnham Herald, multiple editions

↑

Farnham Herald
Ad blocker interference detected!
Wikia is a free-to-use site that makes money from advertising. We have a modified experience for viewers using ad blockers

Wikia is not accessible if you've made further modifications. Remove the custom ad blocker rule(s) and the page will load as expected.