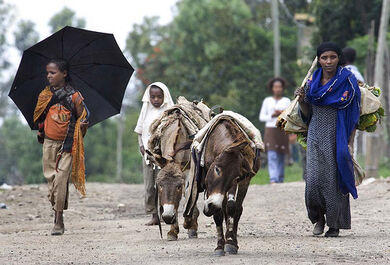 Ethiopia, officially the Federal Democratic Republic of Ethiopia, is a landlocked country situated in the Horn of Africa. Ethiopia is bordered by Eritrea to the north, Sudan to the west, Kenya to the south, Somalia to the east and Djibouti to the northeast. Its size is 1,100,000 km² with an estimated population of over 78,000,000.
Ethiopia's capital is Addis Ababa
Topic links
Edit
The headings in this section provide links to some of the topics in the Ideas Bank. Click on the Ideas Bank link, or the category listing to see a full list of topics.
Ethiopia is a particpant of the United Nations Environment Programme's Climate Neutral Network
Ethiopia is the first African country to join the Climate Neutral Network. While the nation is not a net contributor to global greenhouse gas emissions, it has expressed its commitment to mitigating climate change.
Ethiopia is an active supporter of UNEP's Billion Tree Campaign, contributing more trees than any other nation - over one billion - towards the global target of planting seven billion trees by the crucial UN climate change conference in December 2009.
Furthermore, through Ethiopian Electric Power Corporation, the Government is distributing 5.4 million compact fluorescent lamps (CFLs) - commonly known as "energy savers" - country-wide to help consumers save money on electricity bills and reduce their carbon footprint. [1]
SCA




Wikipedia

Environmental issues in Ethiopia W




Wikisphere






References
↑ United Nations Environment Programme, June 5, 2009
Ad blocker interference detected!
Wikia is a free-to-use site that makes money from advertising. We have a modified experience for viewers using ad blockers

Wikia is not accessible if you've made further modifications. Remove the custom ad blocker rule(s) and the page will load as expected.