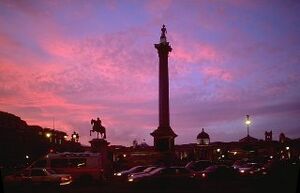 Six "Zero Waste Places" named across England, October 21 [1]
River water quality improves for 18th consecutive year, October 6 [3] Figures from the Environment Agency's annual General Quality Assessment (GQA) show that 76 per cent of English rivers, and 95 per cent of those in Wales, achieved 'very good' or 'good' status in terms of chemical water quality in 2007, up from 55 and 86 per cent respectively in 1990.
First "summer smog" of 2008 warning, May 9 [5]
Ideas Bank - Climate change - Environmental wellbeing - Social wellbeing - Economic wellbeing - Transport and Planning - Local sustainability - Community involvement - Global connections - Personal options - Ideas Bank by place -

Village pump
SCA Wiki - Places, projects & networks - Ideas Bank - News - Diary - Resources - Community / Avoid adverts
References
Ad blocker interference detected!
Wikia is a free-to-use site that makes money from advertising. We have a modified experience for viewers using ad blockers

Wikia is not accessible if you've made further modifications. Remove the custom ad blocker rule(s) and the page will load as expected.