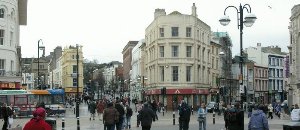 March 7 - Government failing to meet the needs of England's coastal towns, say MPs.
Coastal Towns is a report of the Communities and Local Government Committee appointed by the House of Commons published March 7 2007. The MPs found little evidence of a coordinated approach by Government to the common challenges faced by England's seaside communities.
Challenges facing coastal towns
Edit
A number of characteristics shared by many towns on the coast require specific support from Government:
physical isolation
deprivation levels
the inward migration of older people
high levels of transience
the outward migration of young people
housing shortages and poorly managed housing
imbalances in the coastal economy
environmental challenge of coastal erosion and flooding risk.
Children placed in seaside towns
Edit
The Committee is particularly concerned about the high numbers of vulnerable children placed in some seaside towns by other local authorities, particularly by London boroughs. It is often not in the best interests of the child to be placed far away from their home and family. Chair of the Committee, Dr Phyllis Starkey MP: "Local authorities that place children away from their home need to take full responsibility for that child's welfare and ensure that they provide full financial compensation to the receiving local authority for placements."
Tourism still has an important part to play for many coastal towns, the Committee concludes. It would like to see more done by the Government to promote visits to the English seaside and to consider introducing a national coastal tourism strategy, along similar lines to that recently introduced in Wales.
Benefit claimants and seasonal work
Edit
During its inquiry, the Committee uncovered official figures showing that in Great Britain there has been a 2.2 per cent increase in the number claiming incapacity benefit, special disability allowance or income support for disability claims since 1997 but that "there has been a 12.3 per cent rise in the number of claimants in coastal towns" over the same period.
The Committee was shocked by the lack of awareness the Department of Work and Pensions appeared to have about the significant levels of seasonal work found in many coastal towns which is more than double that of other areas.
Affordable housing
Edit
The lack of affordable housing in many coastal communities is another concern the Committee highlights. It found this is fuelled by inward migration to these areas and second homes. The Committee also draws attention to the high numbers of houses in multiple occupation (HMOs) found in many coastal towns.

External links and references
Ad blocker interference detected!
Wikia is a free-to-use site that makes money from advertising. We have a modified experience for viewers using ad blockers

Wikia is not accessible if you've made further modifications. Remove the custom ad blocker rule(s) and the page will load as expected.