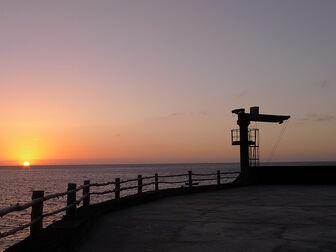 El Hierro is the smallest and farthest south and west of the Canary Islands (an Autonomous Community of Spain), in the Atlantic Ocean off the coast of Africa, with a population of 10,162 (2003).
According to the Ministry for Industry, Tourism and Commerce, El Hierro will become the first island in the world to be energy self-sufficient. This will be achieved through a €54 million project combining a greater than 11 megawatt wind farm and two hydroelectric projects.[1][2][3][4]
The project, created by the local Gorona del Viento El Hierro consortium with financial aid from the European Union, will construct five wind turbines capable of producing 11.5 megawatts of wind power to supply electricity for approximately 11,000 residents, an additional number of tourists, and three water desalination facilities. The hybrid wind/pumped hydro storage system will store surplus wind power by pumping water up 700 meters (approximately 2,300 feet) to fill the crater of an extinct volcano. When winds are calm or when demand exceeds supply, water will be released from the crater to generate 11.3 MW of electricity, filling an artificial basin created at the bottom of the extinct volcano. Water in the lower basin is then pumped back up again to the upper reservoir when there is excess wind power.[4]
The closed-loop hybrid wind/hydro system, to be tested by the end of 2011, is expected to save approximately US$4M per year (calculated with January 2011 oil prices) currently spent on about 40,000 barrels of crude oil imported annually, and will make the island completely self sufficient for electrical energy.[4]

Places, projects and networks -

Portal - UK - USA - Australia - New Zealand - Europe - North America - South America - Oceania - Asia - Africa / Campaigns - Building networks -

Village pump
SCA Wiki - Places, projects & networks - Ideas Bank - News - Diary - Resources - Community / Avoid adverts
References
Ad blocker interference detected!
Wikia is a free-to-use site that makes money from advertising. We have a modified experience for viewers using ad blockers

Wikia is not accessible if you've made further modifications. Remove the custom ad blocker rule(s) and the page will load as expected.