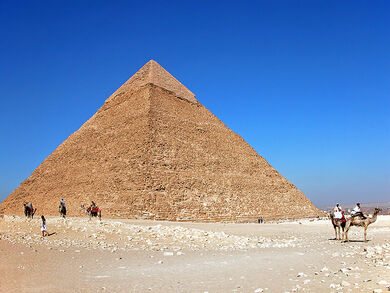 Egypt, officially the Arab Republic of Egypt, is a country mainly in North Africa, with the Sinai Peninsula forming a land bridge in Western Asia. Covering an area of about 1,010,000 square kilometers (390,000 sq mi), Egypt borders the Mediterranean Sea to the north, the Gaza Strip and Israel to the northeast, the Red Sea to the east, Sudan to the south and Libya to the west.
Egypt is one of the most populous countries in Africa and the Middle East. The great majority of its estimated 76 million live near the banks of the Nile River, in an area of about 40,000 square kilometers (15,000 sq mi), where the only arable agricultural land is found. The large areas of the Sahara Desert are sparsely inhabited. About half of Egypt's residents live in urban areas, with the majority spread across the densely-populated centres of greater Cairo, Alexandria and other major cities in the Nile Delta.
Mostafa Ahmed and more than 4,500 enthusiasts kicked off Egypt's first Cleanliness Day on April 10. April 14 [2] On April 10, the campaign was put to action in El Sharkia, El Mansoura, Agouza & Dokki , Al Arish, Heliopolis & Nasr City, Suez, Al-Haram (Pyramids Area), 6th of October, Al Zawya Al Hamra, Ain Shams University, Maadi, Helwan, New Cairo, Matareya, Shobra El Kheima, Meet Ghamr, Mohandeseen, and many more areas. The campaign was endorsed by the media and the Ministry of Environmental Affairs.
Topic links
Edit
The headings in this section provide links to some of the topics in the Ideas Bank. Click on the Ideas Bank link, or the category listing to see a full list of topics.
The rise in sea levels due to global warming threatens Egypt's densely populated coastal strip and could have grave consequences for the country's economy, agriculture and industry. Combined with growing demographic pressures, a rise in sea levels could turn millions of Egyptians into environmental refugees by the end of the century, according to climate experts.
Related topics
Edit
References
↑ Global Voices Online, April 14, 2009
Ad blocker interference detected!
Wikia is a free-to-use site that makes money from advertising. We have a modified experience for viewers using ad blockers

Wikia is not accessible if you've made further modifications. Remove the custom ad blocker rule(s) and the page will load as expected.