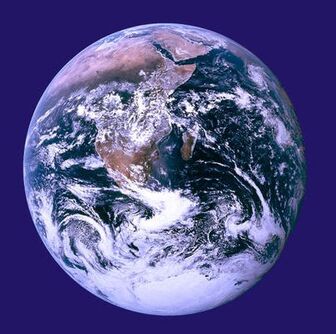 Earth Day is a day designed to inspire awareness and appreciation for the Earth's environment. It is on 22 April. It was founded by U.S. Senator Gaylord Nelson (D-Wisconsin) as an environmental teach-in in 1970 and is celebrated in many countries every year. The first Earth Day was in 1970. Earth Day is in spring in the Northern Hemisphere and autumn in the Southern Hemisphere.
The United Nations celebrates Earth Day each year on the spring equinox, which is often 20 March. This is a tradition which was founded by peace activist John McConnell in 1969. The United Nations first celebrated Earth Day on the spring equinox in 1971. This was also the first time ever that the United Nations celebrated Earth Day. The first Earth Day on the spring equinox was also in 1970.
Earth Day is similar to World Environment Day.
Earth Day Canada
Edit
Earth Day Canada (EDC), a national environmental charity founded in 1990, provides Canadians with the practical knowledge and tools they need to lessen their impact on the environment. In 2004, it was recognized as the top environmental education organization in North America, for its innovative year-round programs and educational resources, by the Washington-based North American Association for Environmental Education, the world's largest association of environmental educators. In 2008, it was chosen as Canada's "Outstanding Non-profit Organization" by the Canadian Network for Environmental Education and Communication. EDC regularly partners with thousands of organizations in all parts of Canada. EDC hosts a suite of six environmental programs: Ecokids, EcoMentors, EcoAction Teams, Community Environment Fund, Hometown Heroes and the Toyota Earth Day Scholarship Program.
Diary - Index - International - UK -

Village pump
SCA Wiki - Places, projects & networks - Ideas Bank - News - Diary - Resources - Community / Avoid adverts

References
↑ The White House, April 13, 2010
Ad blocker interference detected!
Wikia is a free-to-use site that makes money from advertising. We have a modified experience for viewers using ad blockers

Wikia is not accessible if you've made further modifications. Remove the custom ad blocker rule(s) and the page will load as expected.