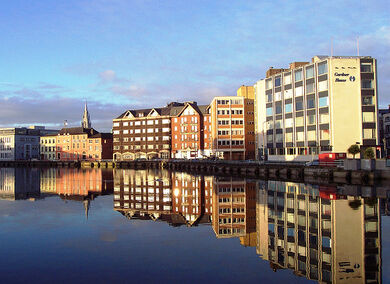 Cork (Irish: Corcaigh) is the second largest city in the Republic of Ireland and the island of Ireland's third most populous city after Dublin and Belfast. It is the principal city and administrative centre of County Cork and the largest city of the province of Munster. The city has a population of 119,143, while the addition of the suburban areas contained in Cork County brings this total to 190,384. Metropolitan Cork has a population of approximately 274,000, while the Greater Cork area is about 380,000.
The River Lee flows through the city, an island in the river forming the main part of the city centre just before the Lee flows into Lough Mahon and then to Cork Harbour, the world's second largest natural harbour, after Sydney, Australia. The city is a major Irish seaport — with quays and docks sited along the broad waterway of the Lee on the city's East side. Cork is one of three constituent cities in the Cork-Limerick-Galway corridor with a population of 1 million people.
The Cork Greenmap Project will provide a portal to the sustainable living resources of Cork. The overall vision is for the Cork Greenmap to be a long-term evolving resource for society and community in Cork City and beyond, providing people with the vision and tools to enhance their own lives and areas.
Ad blocker interference detected!
Wikia is a free-to-use site that makes money from advertising. We have a modified experience for viewers using ad blockers

Wikia is not accessible if you've made further modifications. Remove the custom ad blocker rule(s) and the page will load as expected.