2012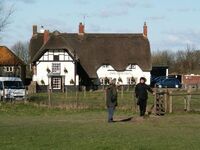 16 pubs closing every week. Government needs to do more to protect 'community pubs', ippr, 24 Jan 2012 [1]


In April 2012, CAMRA, the Campaign for Real Ale is to launch a new national pubs campaign, Community Pubs Month, to champion local pubs which are at the heart of countless communities across Britain. [2]
The aims of Community Pubs Month are to increase footfall in pubs, to encourage more publicans to promote new or existing events to attract further trade, and to spread awareness of community pubs throughout the media.
The dedicated website for the Month – www.communitypubsmonth.org.uk – is geared up to give pubs free publicity through listing any events licensees have planned throughout the month of April. Pubs signing up to the Month will be given free promotional material to help promote their events, whether it be the regular weekly pub quiz or a big one-off charity bash to get the community together.
Kicking off proceedings on Monday April 2nd with Community Pubs Day – the day after CAMRA's Members' Weekend & AGM in Torquay – CAMRA branches across Britain will be organising a wide range of events to promote their local pubs during the Month, and will be working in the lead-up to April to ensure this first year for the campaign is a big success.
Tony Jerome, CAMRA Head of Marketing:
'The real aim of this Month is to give a window of opportunity for hard working publicans to promote any events they have planned in April, and for us at CAMRA to give them all the help and support in terms of publicity and increased trade.
'We realise it's a tough time out there for pubs at the moment – as CAMRA's new pub closure figures highlighted last week – and this is why CAMRA has put a large amount of campaigning funds into this initiative to help pubs market themselves during April.'
As well as CAMRA branches ordering promotional material to maximise the exposure for this new campaign in pubs across Britain, pub licensees can also order packs direct from CAMRA. Available now, Community Pubs Month packs will include campaigning posters, beer mats, leaflets and pump clip crowners. Pubs interested in acquiring material for Community Pubs Month can find out more by visiting www.communitypubsmonth.org.uk.
Related topics
Edit

Wanted pages and external links

References
↑ communitypubsmonth.org.uk, February 1st 2012
Ad blocker interference detected!
Wikia is a free-to-use site that makes money from advertising. We have a modified experience for viewers using ad blockers

Wikia is not accessible if you've made further modifications. Remove the custom ad blocker rule(s) and the page will load as expected.