Community orchards are an initiative promoted by Common Ground the originators of Apple Day. They offer a way of saving vulnerable old orchards and opportunities to plant new ones, providing places for quiet contemplation or local festivities, a reservoir of local varieties of fruit and a refuge for wild life.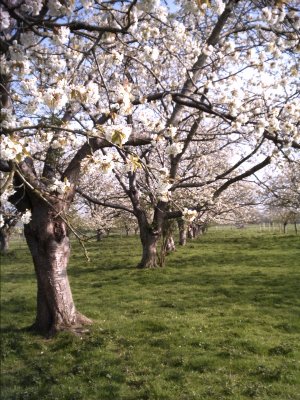 Community Orchards in the UK
Edit
Community Orchards were promoted by *Common Ground (UK charity) in 1992.
There are now (September 2006) over 300 established, and many more are being developed. Community Orchards are places for growing local and other varieties of top fruit, for sharing horticultural skills, for recreation and encouraging wildlife.
Old orchards have been saved by being established as Community Orchards
Traditional and modern compared
Edit
Traditional Orchards are orchards with tall 'standard', widely spaced trees, with about 150 trees per hectare, often under grazed by sheep or cattle, and extensively managed. Modern commercial orchards contain dwarf bush trees, with about 2200 trees per hectare, and are intensively managed. Every farm and large garden would have had its own orchard of mixed fruit trees that kept us in apples from July/August through Christmas to Easter.
Related topics
Edit

Wanted pages and external links

Ideas Bank - Climate change - Environmental wellbeing - Social wellbeing - Economic wellbeing - Transport and Planning - Local sustainability - Community involvement - Global connections - Personal options - Ideas Bank by place -

Village pump
SCA Wiki - Places, projects & networks - Ideas Bank - News - Diary - Resources - Community / Avoid adverts
References
Ad blocker interference detected!
Wikia is a free-to-use site that makes money from advertising. We have a modified experience for viewers using ad blockers

Wikia is not accessible if you've made further modifications. Remove the custom ad blocker rule(s) and the page will load as expected.