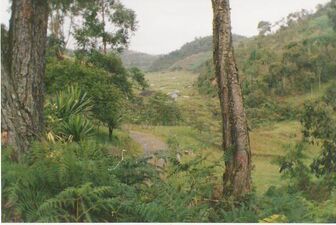 Colombia, or formally, the Republic of Colombia (Spanish: República de Colombia, is the northwesternmost country of South America. Colombia is bordered to the east by Venezuela and Brazil; to the south by Ecuador and Peru; to the North by the Atlantic Ocean, through the Caribbean Sea; and to the west by Panama and the Pacific Ocean. Colombia is also the only country in South America that borders both the Atlantic and the Pacific Ocean.
Colombia is a large and physically diverse nation. It is the fourth-largest country in South America (after Brazil, Argentina, and Peru), with an area seven times greater than that of New England; more than twice that of France; or just slightly smaller than Arizona, California, Oregon, and Washington State combined. Its vast territory is one of great physical contrasts, ranging from the towering, snowcapped peaks of the Andes to the hot, humid plains of the Amazon River Basin. Not only is Colombia large in area, but it also has a large population, containing more people than any other South American country except Brazil.
2010 SEED Award Winners
"BOSQUE HUMEDO BIODIVERSO" is a business initiative headed by a local NGO that uses fruit and pulp as ingredients for the local cosmetics and food industries. The use of non-timber products will reduce deforestation of tropical forests and local families will benefit from collecting value-added goods. This helps develop alternative income sources and promotes the sustainable management of local biodiversity. [1]
2009 SEED Award Winners
A national NGO and local community associations are engaged in an initiative to reverse environmental degradation and social exclusion produced by illegal and uncontrolled mechanized mining. A mining certification process and capacity building program have been created created. More than 1000 artisan mines are now following social and environmental criteria.
"Camarones Sostenibles del Golfo de Morrosquillo". The partners of this project are a community-based organization, a local NGO and a small business which are aiming to establish a cooperative enterprise that includes families of traditional fishermen in the Morrosquillo Gulf, farming shrimp in a way which produces zero emissions. [2]
Topic links
Edit
The headings in this section provide links to some of the topics in the Ideas Bank. Click on the Ideas Bank link, or the category listing to see a full list of topics.
Ecotourism
Places, projects and networks -

Portal - UK - USA - Australia - New Zealand - Europe - North America - South America - Oceania - Asia - Africa / Campaigns - Building networks -

Village pump
SCA Wiki - Places, projects & networks - Ideas Bank - News - Diary - Resources - Community / Avoid adverts
This article is a stub. Someone helped by starting it, but it doesn't have much content yet. You are invited to add content.

Thank you!
References
↑ United Nations Environment Programme, May 12, 2009
Ad blocker interference detected!
Wikia is a free-to-use site that makes money from advertising. We have a modified experience for viewers using ad blockers

Wikia is not accessible if you've made further modifications. Remove the custom ad blocker rule(s) and the page will load as expected.