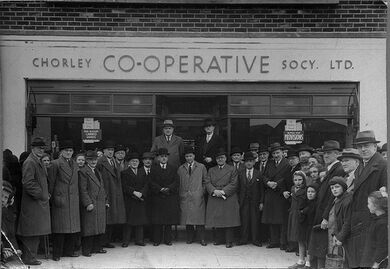 A cooperative (also coöperative or co-operative or co-op) has been defined in the International Co-operative Alliance (ICA) Statement on the Co-operative Identity as "an autonomous association of persons united voluntarily to meet their common economic, social, and cultural needs and aspirations through a jointly-owned and democratically-controlled enterprise." A simpler definition of a cooperative can be defined as a business owned by the people who use its services. They "are based on the values of self-help, self-responsibility, democracy, equality, equity and solidarity. In the tradition of their founders, co-operative members believe in the ethical values of honesty, openness, social responsibility and caring for others." Such enterprises are the focus of study in the field of Co-operative economics. Cooperatives also have a sponsored top level domain .coop, which informs users that they are dealing with a co-op.
Febraury 2011

The Co-operative announces "the most radical sustainability programme in UK corporate history" that will "...help build a more sustainable economy." February 18 [1]
June 2010
thumb|500px|left
Radical Routes offer 'how to' type publications, for example 'How to set up a Workers Co-op.'
Random facts
Edit

Wanted pages and external links UK

References
↑ co-operative.coop, February 18, 2011
Ad blocker interference detected!
Wikia is a free-to-use site that makes money from advertising. We have a modified experience for viewers using ad blockers

Wikia is not accessible if you've made further modifications. Remove the custom ad blocker rule(s) and the page will load as expected.