Climate change

Portal
-
video
-
links
-
feeds
-
diary
-
resources
-
images
-
cities
-
A-Z

USA - diary / UK - Europe - Australia - Canada - New Zealand - Costa Rica - Indonesia - Africa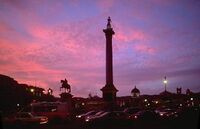 Comment
Heathrow Ruling - Friends of Earth Comment, August 6: "The judge's decision is a victory for common sense. It sends a clear message to BAA that they cannot use their corporate muscle to stop people from engaging in lawful, peaceful protests on issues such as climate change." Gita Parihar, Friends of the Earth's Lawyer. The judge agreed that it was unjustified for BAA to seek an injunction against organisations campaigning on aviation and local groups opposing Heathrow expansion. The proposed injunction against HACAN, NOTRAG, AirportWatch and Geraldine Nicholson was dismissed and costs were awarded. The judge dismissed the wide-ranging injunction requested by BAA and issued a much more limited injunction covering trespass and nuisance in a defined area against Plane Stupid, its supporters and people acting with them. [1]
Your comment
- Contribute via our
Forums
or a
comment
type article, or on any article via its talk page - click on 'talk' link at top of page
Liberal Democrats publish proposals to transform Britain into an international leader in tackling climate change, August 28 [2]
Ideas Bank - Climate change - Environmental wellbeing - Social wellbeing - Economic wellbeing - Transport and Planning - Local sustainability - Community involvement - Global connections - Personal options - Ideas Bank by place -

Village pump
SCA Wiki - Places, projects & networks - Ideas Bank - News - Diary - Resources - Community / Avoid adverts
References
↑ Friends of Earth, August 6
↑ Liberal Democrats, August 29
↑ Green Alliance, August 17
Ad blocker interference detected!
Wikia is a free-to-use site that makes money from advertising. We have a modified experience for viewers using ad blockers

Wikia is not accessible if you've made further modifications. Remove the custom ad blocker rule(s) and the page will load as expected.