Climate change

Portal
-
video
-
links
-
feeds
-
diary
-
resources
-
images
-
cities
-
A-Z

USA - diary / UK - Europe - Australia - Canada - New Zealand - Costa Rica - Indonesia - Africa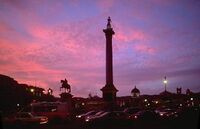 Comment
"The government is getting distracted producing web gimmicks when it should be focused on delivering results," Greenpeace comment on David Milliband's carbon calculator, Greenpeace, June 20
Your comment
- Contribute via our
Forums
or a
comment
type article, or on any article via its talk page - click on 'talk' link at top of page
June 2007
Edit
May 2007
Edit
Defra conducts "deliberative public engagement" exercise on climate change. The event is described by Defra, (the Department for Environment, Food and Rural Affairs) as involving "a representative sample of 150 people... recruited from six locations around the country (London, Birmingham, Bristol, Manchester, Newcastle and Nottingham)." Prior to the event, described by Defra as a "summit", "...participants took part in regional workshops where they discussed issues around climate change." Defra, May 12
April 2007
Edit
Climate change is happening now - world needs to respond urgently, Defra, April 6. Climate Change Minister Ian Pearson promises a 'Citizens Summit' that "will engage directly with the public on this important issue."
Ideas Bank - Climate change - Environmental wellbeing - Social wellbeing - Economic wellbeing - Transport and Planning - Local sustainability - Community involvement - Global connections - Personal options - Ideas Bank by place -

Village pump
SCA Wiki - Places, projects & networks - Ideas Bank - News - Diary - Resources - Community / Avoid adverts
References
↑ Transport 2000, June 21
Ad blocker interference detected!
Wikia is a free-to-use site that makes money from advertising. We have a modified experience for viewers using ad blockers

Wikia is not accessible if you've made further modifications. Remove the custom ad blocker rule(s) and the page will load as expected.