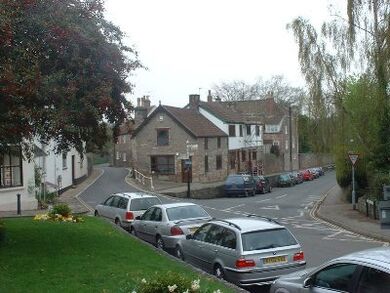 Chew Magna (Grid reference ST575631) is a village within the Chew Valley in North East Somerset, South West England. To the south of the town is Chew Valley Lake. The village is on the B3130, about 10 miles from Bristol, 15 miles from Bath, 13 miles from the city of Wells, and 6 miles from Bristol International Airport.
It is just on the northern edge of the Mendip Hills (a designated Area of Outstanding Natural Beauty), and was designated a conservation area in 1978. There are many listed buildings reflecting the history of the village. The River Chew flows through the village. Just outside the village is Chew Magna Reservoir this small Bristol Water supply reservoir intercepts the Winford Brook.
It has around 1,200 residents. There are two primary schools and a secondary school, several shops and small businesses, three churches, three pubs serving the area. There is also a football pitch and children's play area. The village frequently wins regional categories in the Calor Village of the Year competition, and is currently moving towards zero waste status, having been described as "probably the greenest parish in Britain".
Chew Magna has signed up to a 'Go Zero' campaign aimed at creating a waste free and sustainable community. Residents aim to reduce local traffic, carbon emissions and find further ways to reduce domestic and business waste.
The campaign includes promoting local foods, recycling chip fat into car fuel, and renovating an old water powered mill as a community resource and educational centre. Chairman Ian Roderick: "We have to do something. We can't push these big issues away and parcel them up as something that governments... or business will adress... the changes that are necessary are changes that we all have to make."
Location
Edit

External links
Reference
Ad blocker interference detected!
Wikia is a free-to-use site that makes money from advertising. We have a modified experience for viewers using ad blockers

Wikia is not accessible if you've made further modifications. Remove the custom ad blocker rule(s) and the page will load as expected.