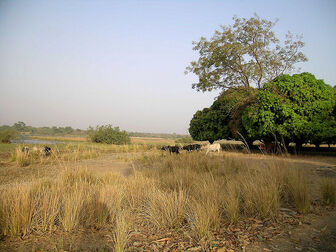 Burkina Faso, also known by its short-form name Burkina, is a landlocked nation in West Africa. It is surrounded by six countries: Mali to the north, Niger to the east, Benin to the south east, Togo and Ghana to the south, and Côte d'Ivoire to the south west. Its size is 274,000 km² with an estimated population of more than 13,200,000.
Burkina Faso's capital is Ouagadougou.
2010 SEED Award Winners
2009 SEED Award Winners
Topic links
Edit
The headings in this section provide links to some of the topics in the Ideas Bank. Click on the Ideas Bank link, or the category listing to see a full list of topics.
Burkina Faso's fauna and flora are protected in two national parks and several reserves, see List of national parks in Africa W.
Related topics
Edit

External links

Places, projects and networks -

Portal - UK - USA - Australia - New Zealand - Europe - North America - South America - Oceania - Asia - Africa / Campaigns - Building networks -

Village pump
SCA Wiki - Places, projects & networks - Ideas Bank - News - Diary - Resources - Community / Avoid adverts
This article is a stub. Someone helped by starting it, but it doesn't have much content yet. You are invited to add content.

Thank you!
References
↑ United Nations Environment Programme, May 12, 2009
Ad blocker interference detected!
Wikia is a free-to-use site that makes money from advertising. We have a modified experience for viewers using ad blockers

Wikia is not accessible if you've made further modifications. Remove the custom ad blocker rule(s) and the page will load as expected.