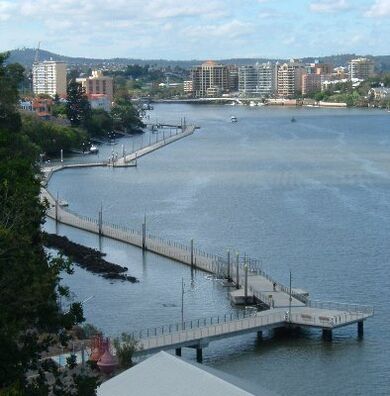 Brisbane is the state capital of Queensland and its most populous city. It is also the third most populous city in Australia, behind southern rivals Sydney and Melbourne. The city is situated on the Brisbane River on a low-lying floodplain between Moreton Bay and the Great Dividing Range in south-eastern Queensland.
March 28 2009, 8.30 pm Earth Hour - Brisbane is a participating city
Topic links
Edit
The headings in this section provide links to some of the topics in the Ideas Bank. Click on the Ideas Bank link, or the category listing to see a full list of topics.
Brisbane is a particpant of the United Nations Environment Programme's Climate Neutral Network
Brisbane has over 27 km (16.8 mi) of bicycle pathways, mostly surrounding the Brisbane river and city centre, extending to the west of the city.
The Green is an award winning environmentally responsible community for seniors. Located in a bush setting on Brisbane's southside, it provides seniors with a unique opportunity to live in a vibrant community offering security, independence and safety. Houses at The Green are supplied by SALA Homes.
Ad blocker interference detected!
Wikia is a free-to-use site that makes money from advertising. We have a modified experience for viewers using ad blockers

Wikia is not accessible if you've made further modifications. Remove the custom ad blocker rule(s) and the page will load as expected.