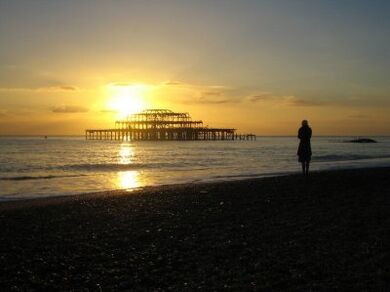 Brighton is located on the south coast of South East England, and together with its immediate neighbour Hove forms the city of Brighton and Hove. Brighton is one of the largest and most famous seaside resorts in the United Kingdom.
2010

Newcastle, assessed by Forum for the Future as top amongst Britain's most sustainable cities for the second year running, and Leicester, in second place, are outpacing rivals Brighton, Bristol and London. "But all five have set themselves ambitious targets and are guided by long-term visions of how to improve life for their citizens by reducing their impact on the environment and seizing new opportunities in the green economy." 18 Oct [1] topic, place
Brighton, third, scores well for quality of life and future-proofing, with a healthy, highly skilled population and a vibrant economy, but high-consumption lifestyles give it the worst ecological footprint of any city.
2007
Brighton and Hove rated as the most sustainable city in Britain, by Forum for the Future, October 20 [2] The UK's 20 largest cities were assessed according to three criteria – their 'environmental impact', 'quality of life' and 'future proofing'. Brighton and Hove as the most sustainable city is followed by Edinburgh in second place and Bristol in third. Liverpool comes bottom of the list, after Hull in 18th place and Birmingham in 19th. Forum for the Future intend to measure these indicators year-on-year. topic
June 2008
July 2008
Topic links
Edit
See separate article - Brighton links
References
↑ Forum for the Future, 18 Oct 2010
↑ Forum for the Future, October 20