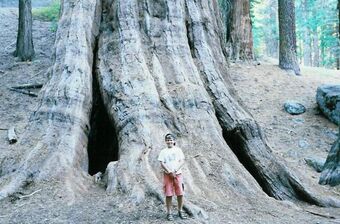 With habitats ranging from tropical to Arctic, U.S. plant life is very diverse. The country has more than 17,000 identified native species of flora, including 5,000 in California (home to the tallest, the most massive, and the oldest trees in the world). More than 400 mammal, 700 bird, 500 reptile and amphibian, and 90,000 insect species have been documented. Wetlands such as the Florida Everglades are the base for much of this diversity. The country's ecosystems include thousands of nonnative exotic species that often harm indigenous plant and animal communities.
Many plant and animal species became extinct soon after first human settlement, including the North American megafauna; others have become nearly extinct since European settlement, among them the American Bison and California Condor.
The Endangered Species Act of 1973 protects threatened and endangered species and their habitats, which are monitored by the U.S. Fish and Wildlife Service.
In 1872, the world's first national park was established at Yellowstone. Another fifty-seven national parks and hundreds of other federally managed parks and forests have since been formed. Wilderness areas have been established around the country to ensure long-term protection of pristine habitats. Altogether, the U.S. government regulates 1,020,779 square miles (2,643,807 km²) , 28.8% of the country's total land area. Protected parks and forestland constitute most of this.

Wanted pages and external links
Ad blocker interference detected!
Wikia is a free-to-use site that makes money from advertising. We have a modified experience for viewers using ad blockers

Wikia is not accessible if you've made further modifications. Remove the custom ad blocker rule(s) and the page will load as expected.