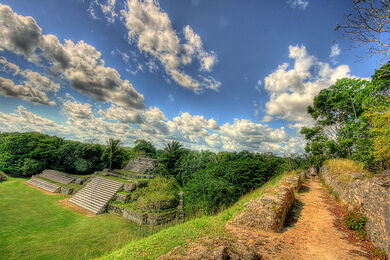 Belize, formerly British Honduras, is a country in Central America. Once part of the Mayan, and very briefly the Spanish Empire, it was most recently affiliated with the British Empire, prior to gaining its independence in 1981. The country is bordered to the south and west by Guatemala, to the north by Mexico, and to the east by the Caribbean Sea.
Belize has a diverse society, composed of many cultures and speaking many languages. It is the only country in Central America where English is an official language, although Kriol and Spanish are also widely spoken. With 8,867 square miles (22,960 km²) of territory and 320,000 people (2008 est.), the population density is the lowest in the Central American region and one of the lowest in the world.
Regular events
Topic links
Edit
The headings in this section provide links to some of the topics in the Ideas Bank. Click on the Ideas Bank link, or the category listing to see a full list of topics.
The country possess considerable potential for hydroelectric and other renewable energy resources, such as solar and biomass.
Ad blocker interference detected!
Wikia is a free-to-use site that makes money from advertising. We have a modified experience for viewers using ad blockers

Wikia is not accessible if you've made further modifications. Remove the custom ad blocker rule(s) and the page will load as expected.