Home > Belgium > Janadesh2007 > Belgium:Janadesh2007English
What? March in support of landless farmers in India and for the right to access to land in our regions

When? From October 19th (evening) to October 21st (16h)

Where? Departure in Huizingen and via Sint-Pieters - Leeuw to the embassy of India (Brussels), our final destination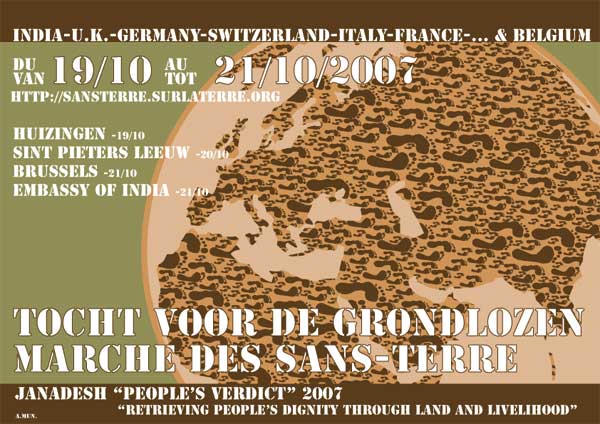 Invitation Edit
Friday 19th (evening) to Sunday, October 21st (late afternoon) we will walk the March for the "landless". Join and spread the invitation as wide as possible around you!

In northern India, the Janadesh movement is underway to New Delhi. 25,000 landless farmers have embarked on a nonviolent action to the right and access to land. The campaign in October is conceived as follows: a march to the capital (from 21.10), public discourse, ultimatum to the state, the mandate of the people ( "Janadesh" means "People's Verdict"), a strike still, a sit-ins and hunger strike in front of the seat of government before obtaining the rights claimed. This campaign is the verdict of the people on the restoration of their dignity through land and livelihood appropriate. It aims to mobilize communities in a non-violent struggle, through civil disobedience at local, national and international levels for the coming years. (More information www.english.janadesh.net).



The Belgian march aims at supporting the landless farmers of India, but it also wants to highlight the problem of access to land in our own regions, particularly for young people who want to become farmers and all those who want to meet their basic needs. Many people face similar problems in Belgium.

A march of solidarity thus came into being. As New Delhi is inaccessible by foot, the March for the landless follows the route Huizingen - Sint-Pieters-Leeuw - channel Charleroi/Brussels - Brussels (Market du Midi) - Ixelles to the embassy of India, which represents the government New Delhi here. Other marches in support of Janadesh take place in Switzerland and France. (More information www.landforlife.ch, www.confederationpaysanne.fr)

Solidarity with India and the issues of land rights in the broad sense (modern agriculture, urban, access to housing, land problems etc.) will be addressed during the two discussion evenings on Friday, October 19 and Saturday 20 - 10. The judgment on the market du Midi on Sunday will be a great opportunity to bring the message to Brussels. We will also work together to write a letter to be submitted on behalf of the group to the ambassador of India on Sunday, October 21 at 16h.
Contacts Edit
French speaking contacts: Morgan (morgan_o2002@yahoo.fr),Bastien (bastienchemin@hotmail.com) or Hervé (herve.brindel@gsara.be).
Dutch and English Contacts: Jonas may be reached on 02/640.84.17 (jonas@fian.be), Maarten will reply your calls on 0497/77.28.69 (mroels@vub.ac.be).
During the march: 0486/88.88.45 and 0497/77.28.69 (when lost in the countryside).
Web (participatory wiki page)
http://sca21.wikia.com/wiki/Belgium:Janadesh2007
How and where do we get there? Edit
(Download a a detailed description for each step in the march!(fr).pdf)

Paul Samyn & Veerle Eylenbosch Farm's (patchamama.be) – Solenberg 3 – 1654 Huizingen

Jean-Pierre De Leener Farm's – Bezemstraat 260 – 1600 Sint-Pieters-Leeuw

Marché du Midi-on the terrace at the end of the avenue de Stalingrad (Lemonnier) - 1000 Brussels

In front of the embassy of India Chaussee de Vleurgat 217, Ixelles, 1050 Brussels
In practice? Edit
We will sleep in a barn, so don't forget your foam and sleeping bag. The rain and cold won't stop us, but still it'd be nice to take a waterproof jacket with you. The walk is relatively short and easy, accessible to all. On Sunday, the Brussels-Charleroi canal accompanies a good part of the journey. Walking shoes are a good idea.

Take along beautiful light-hearted activism, participatory tendencies, solidarity ... and a pretty container to provide the soil to the embassy! The march for the landless was organized in a spirit of openness and accessibility to all. Everyone is welcome but please mind to act at all times in individual responsibility, keep in mind respect for oneself, for others and the environment. Non-violence, solidarity, autonomy and friendliness are expected. Everyone expected to respect the hosts and their private space. The sleeping places on Friday night, Saturday night and the space for a picnic on Sunday 12 will be left as clean as we arrived, if not cl.

There will be equipment for a collective kitchen as well as carts capable of delivering the land to the embassy of India. Please bring along cutlery, plates and some provisions to share food and cook together, especially for the first night.

Musicians are strongly invited with their musical instruments! It will be much better to walk, chatting around a fire and envelop passers-by in music. Accordions, guitars, percussion and other instruments that are played while walking would be great on the March for the landless and help to pass our message.
Press Info Edit
Website/s Edit
Discussion group/sEdit
They speak about usEdit
Location informationEdit
DOWNLOAD IT ! - Poster, flyers, etc. Edit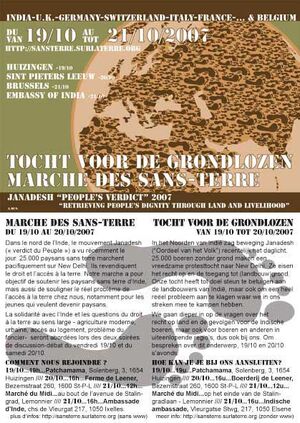 Organization Edit
| | |
| --- | --- |
| Next meeting (last): Tuesday, October 16th at 7:30 p.m. Maarten, Rue des Trois Tilleuls 51 to Watermael, Access via Bus 95 (Wiener Terminus) or Tram 94. | |
In September and October 2007, across Europe and throughout the world, people have held marches to show their support for the landless in India. In Belgium, there is no provision, except perhaps a press conference on October 10 (organized by NGOs and the French Confederation Paysanne), on the day of arrival of the march in New Delhi India.

A message at the end of August on a forum, and now .....

We (the "we" refers to some people who have participated in the Pace for the after-growth this summer) wanted to organize therefore, Belgium, a march in the same spirit. It was a few days walking in solidarity with Indian landless and, pointing the difficulties of access to land in Belgium. for ... then it is here ...
Ad blocker interference detected!
Wikia is a free-to-use site that makes money from advertising. We have a modified experience for viewers using ad blockers

Wikia is not accessible if you've made further modifications. Remove the custom ad blocker rule(s) and the page will load as expected.