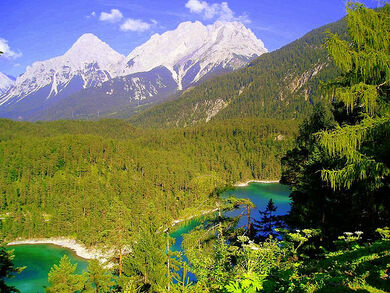 Austria, officially the Republic of Austria, is a landlocked country in Central Europe. It borders both Germany and the Czech Republic to the north, Slovakia and Hungary to the east, Slovenia and Italy to the south, and Switzerland and Liechtenstein to the west. The capital is the city of Vienna on the Danube River.
Energy politics
Edit
In 1972, the country began construction of a nuclear-powered electricity-generation station at Zwentendorf on the River Danube, following a unanimous vote in parliament. However, in 1978, a referendum voted approximately 50.5% against nuclear power, 49.5% for, and parliament subsequently unanimously passed a law forbidding the use of nuclear power to generate electricity.
Austria currently produces more than half of its electricity by hydropower. Together with other renewable energy sources such as wind, solar and biomass powerplants, the electricity supply from renewable energy amounts to nearly 80% of total use in Austria. The rest is produced by gas and oil powerplants.
Topic links
Edit
Transport

External links
Ad blocker interference detected!
Wikia is a free-to-use site that makes money from advertising. We have a modified experience for viewers using ad blockers

Wikia is not accessible if you've made further modifications. Remove the custom ad blocker rule(s) and the page will load as expected.