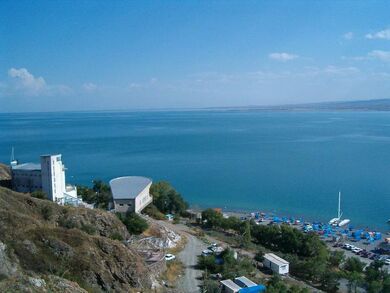 Armenia, officially the Republic of Armenia, is a landlocked mountainous country in Eurasia between the Black Sea and the Caspian Sea, located in the Southern Caucasus. It shares borders with Turkey to the west, Georgia to the north, Azerbaijan to the east, and Iran and the Nakhichevan exclave of Azerbaijan to the south. A former republic of the Soviet Union, Armenia is a unitary, multiparty, democratic nation-state and one of the oldest and most historic civilizations in the world with a rich cultural heritage.
Environmental challenges
Edit
Armenia is trying to address its environmental problems. It has established a Ministry of Nature Protection and introduced taxes for air and water pollution and solid waste disposal, whose revenues are used for environmental protection activities. Armenia is interested in cooperating with other members of the Commonwealth of Independent States (CIS, a group of 11 former Soviet republics) and with members of the international community on environmental issues. The Armenian Government is working toward closing its Nuclear Power Plant at Medzamor near Yerevan as soon as alternative energy sources are identified.
April 2007
1 - Sunday
October 2007
6 - Saturday
Armenia links
Edit
Topic links
Edit
The headings in this section provide links to some of the topics in the Ideas Bank. Click on the Ideas Bank link, or the category listing to see a full list of topics.
Ad blocker interference detected!
Wikia is a free-to-use site that makes money from advertising. We have a modified experience for viewers using ad blockers

Wikia is not accessible if you've made further modifications. Remove the custom ad blocker rule(s) and the page will load as expected.