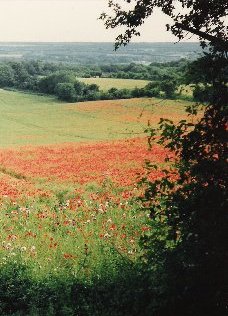 There are 40 Areas of Outstanding Natural Beauty (AONBs) in England and Wales (35 wholly in England, 4 wholly in Wales and 1 which straddles the border).
Created by the legislation of the National Parks and Access to the Countryside Act of 1949.
There are also 9 AONBs in Northern Ireland - and a further two (Erne Lakeland and Fermanagh Caveland) are proposed.
In South East England they cover some 36% of the countryside.
The Countryside and Rights of Way Act 2000 placed a duty on all Local Authorities to act jointly in publishing AONB Management plans tasked with conserving and enhancing England's AONBs.
The primary purpose of an AONB designation is to conserve and enhance the natural beauty in these nationally important landscapes.
Acoording to the Countryside Agency ... AONB account for 18 percent of the finest countryside in England and Wales. "Designated for their natural beauty, these national landscapes are tranquil and beautiful places for everyone to enjoy; as well as being home to exquisite and unusual plant and wildlife. AONBs in Britain offer startling variations in size and landscape character - from the windswept Northumberland Coast to the steep wooded valleys of the Blackdown Hills, the cosy harbours of Cornwall and ancient oak hunting forest of Cannock Chase."
Comment
2009
2007
New Start editorial May 23 2007 Remember Swampy? It was only a decade ago that eco-warriors constructed networks of tunnels and tree houses to prevent roads and runways being built. Now they're nearly old enough for a reunion tour.
Your comment
- Contribute via our
Forums
or a
comment
type article, or on any article via its talk page - click on 'talk' link at top of page
Andrew Wood, Director of Landscape, Access and Recreation for the Countryside Agency: "The anniversary celebrations (May 2006) provide an opportunity to reflect on the success of the designations, while also giving thought to new challenges and the measures required to protect our AONBs, ... to ensure that these national landscapes are conserved and protected for the enjoyment of future generations."
Marking the 50th anniversary
Edit
To mark the golden anniversary, celebration events will be taking place all year (2006) in AONBs across Britain. From themed walks and cycle rides to local food festivals and photographic competitions, tree planting to craft workshops.
SCA




Wikipedia

Areas of Outstanding Natural Beauty in England and Wales W




Wikisphere







External links
References
Ad blocker interference detected!
Wikia is a free-to-use site that makes money from advertising. We have a modified experience for viewers using ad blockers

Wikia is not accessible if you've made further modifications. Remove the custom ad blocker rule(s) and the page will load as expected.