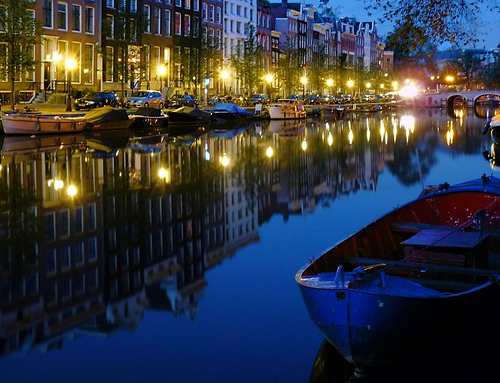 Amsterdam is the capital and largest city of the Netherlands, located in the province of North Holland in the west of the country. The city, which had a population of around 1 million (with suburbs) on 1 January 2008, comprises the northern part of the Randstad, the 6th-largest metropolitan area in Europe, with a population of around 6.7 million.
Topic links
Edit
The headings in this section provide links to some of the topics in the Ideas Bank. Click on the Ideas Bank link, or the category listing to see a full list of topics.
Amsterdam is one of the most bicycle-friendly cities in the world and is a centre of bicycle culture with good facilities for cyclists such as bike paths and bike racks, which pervade the city. In 2006, there were about 465,000 bicycles in Amsterdam. Theft is widespread - in 2005, about 54,000 bicycles were stolen in Amsterdam. Bicycles are used by all socio-economic groups due to their convenience, Amsterdam's small size, the large number of bike paths, the flat terrain, and the arguable inconvenience of driving an automobile. A wide variety of bicycles are used, such as road bicycles, mountain bikes, racing bikes and even recumbent bikes, but the vast majority of bicycles are second-hand, older-model, heavy bikes with no gears and back-pedal brakes. Bicycle traffic, and traffic in general, is relatively safe.
Related topics
Edit
External links
Edit

Places, projects and networks -

Portal - UK - USA - Australia - New Zealand - Europe - North America - South America - Oceania - Asia - Africa / Campaigns - Building networks -

Village pump
SCA Wiki - Places, projects & networks - Ideas Bank - News - Diary - Resources - Community / Avoid adverts
This article is a stub. Someone helped by starting it, but it doesn't have much content yet. You are invited to add content.

Thank you!
Ad blocker interference detected!
Wikia is a free-to-use site that makes money from advertising. We have a modified experience for viewers using ad blockers

Wikia is not accessible if you've made further modifications. Remove the custom ad blocker rule(s) and the page will load as expected.