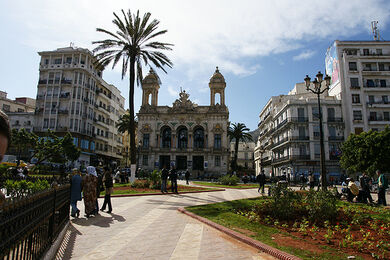 Algeria, officially the People's Democratic Republic of Algeria, is a country located in North Africa. It is the largest country of the Mediterranean sea, and the second largest on the African continent and the eleventh-largest country in the world in terms of land area. It is bordered by Tunisia in the northeast, Libya in the east, Niger in the southeast, Mali and Mauritania in the southwest, a few kilometers of the Western Sahara in the west, Morocco in the northwest, and the Mediterranean Sea in the north. Its size is almost 2,400,000 km2 with an estimated population near to 35,000,000. The capital of Algeria is Algiers.
Topic links
Edit
The headings in this section provide links to some of the topics in the Ideas Bank. Click on the Ideas Bank link, or the category listing to see a full list of topics.
References
Ad blocker interference detected!
Wikia is a free-to-use site that makes money from advertising. We have a modified experience for viewers using ad blockers

Wikia is not accessible if you've made further modifications. Remove the custom ad blocker rule(s) and the page will load as expected.