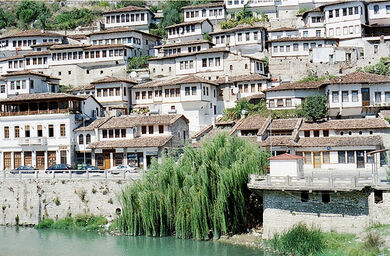 Albania, officially the Republic of Albania, is a country in South Eastern Europe. It is bordered by Greece to the south-east, Montenegro to the north, Kosovo to the northeast, and Macedonia to the east. It has a coast on the Adriatic Sea to the west, and on the Ionian Sea to the southwest. It is less than 72 km (45 mi) from Italy, across the Strait of Otranto which links the Adriatic Sea to the Ionian Sea.
The Albanian capital, Tirana, is home to approximately 895,000 of the country's 3.6 million people
Topic links
Edit
The headings in this section provide links to some of the topics in the Ideas Bank. Click on the Ideas Bank link, or the category listing to see a full list of topics.
Over a third of the territory of Albania – about 10,000 square kilometres (2.5 million acres) – is forested and the country was very rich in flora. About 3.000 different species of plants grow in Albania, many of which are used for medicinal purposes. Phytogeographically, Albania belongs to the Boreal Kingdom and is shared between the Adriatic and East Mediterranean provinces of the Mediterranean Region and the Illyrian province of the Circumboreal Region. According to the World Wide Fund for Nature and Digital Map of European Ecological Regions by the European Environment Agency, the territory of Albania can be subdivided into three ecoregions: the Illyrian deciduous forests, Pindus Mountains mixed forests and Dinaric Mountains mixed forests. The forests are home to a wide range of mammals, including wolves, bears, wild boars, and chamois. Lynx, wildcats, pine martens and polecats are rare, but survive in some parts of the country.
References
↑ A Nevada Yankee in King Zog's Court, April 21, 209
Ad blocker interference detected!
Wikia is a free-to-use site that makes money from advertising. We have a modified experience for viewers using ad blockers

Wikia is not accessible if you've made further modifications. Remove the custom ad blocker rule(s) and the page will load as expected.