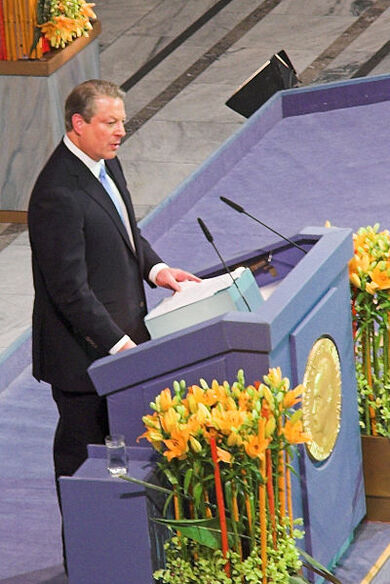 "We must abandon the conceit that individual, isolated, private actions are the answer. They can and do help. But they will not take us far enough without collective action." Source: Al Gore on the acceptance of the Nobel Peace Prize, December 10 2007 [1]
"The future is knocking at our door right now. Make no mistake, the next generation will ask us one of two questions. Either they will ask: "What were you thinking; why didn't you act?" Or they will ask instead: "How did you find the moral courage to rise and successfully resolve a crisis that so many said was impossible to solve?" We have everything we need to get started... "We have a purpose. We are many. For this purpose we will rise, and we will act." Source: Al Gore on the acceptance of the Nobel Peace Prize, December 10 2007 [2]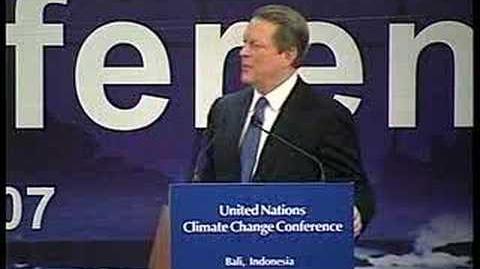 2006 - Former vice president Al Gore releases An Inconvenient Truth, a documentary that describes global warming.
ClimateCrisis.net - site for An Inconvenient Truth, Al Gore's documentary about global warming.
Related wiki
Edit
References
↑ The Nobel Peace Prize 2007, October 12
Ad blocker interference detected!
Wikia is a free-to-use site that makes money from advertising. We have a modified experience for viewers using ad blockers

Wikia is not accessible if you've made further modifications. Remove the custom ad blocker rule(s) and the page will load as expected.