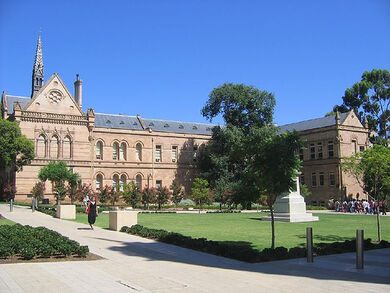 Adelaide is the capital and most populous city of the Australian state of South Australia, and is the fifth-largest city in Australia, with a population of more than 1.1 million. It is a coastal city situated on the eastern shores of Gulf St. Vincent, on the Adelaide Plains, north of the Fleurieu Peninsula, between the Gulf St. Vincent and the low-lying Mount Lofty Ranges. It is roughly 20 km (12 mi) from the coast to the foothills but sprawls 90 km (56 mi) from Gawler at its northern extent to Sellicks Beach in the south.
March 28 2009, 8.30 pm Earth Hour - Adelaide is a participating city
Topic links
Edit
The headings in this section provide links to some of the topics in the Ideas Bank. Click on the Ideas Bank link, or the category listing to see a full list of topics.

External links
Ad blocker interference detected!
Wikia is a free-to-use site that makes money from advertising. We have a modified experience for viewers using ad blockers

Wikia is not accessible if you've made further modifications. Remove the custom ad blocker rule(s) and the page will load as expected.